Book Releases
Close to Heaven: A Colorado High Country Christmas (Colorado High Country #5) —
Rain and Joe's story is out! Head back to Scarlet Springs for a very snowy Christmas story, complete with a look at the history of Scarlet Springs. There are sexy times, as well as a lot of humor. You can grab your copy here:
Kindle
Nook
iBooks
Kobo
Smashwords
Paperback

About Me
I grew up in Colorado at the foot of the Rocky Mountains, then lived in Denmark and traveled throughout Europe before coming back to Colorado. I have two adult sons, whom I cherish. I started my writing career as a columnist and investigative reporter and eventually became the first woman editor of two different papers. Along the way, my team and I won numerous state and several national awards, including the National Journalism Award for Public Service. In 2011, I was awarded the Keeper of the Flame Lifetime Achievement Award for Journalism. Now I write historical romance and contemporary romantic suspense.
View my complete profile

My Blog List

Monday, March 19, 2007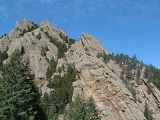 So let me tell you what turns me on besides hot, sexy men — documents that are stamped
"Confidential: Do Not Distribute"
or "Extremely Confidential." I get positively
hot
over emails that come with legal warnings — "If you are not the intended recipient of this email be aware that this material is restricted and you may be in violation of state and federal law."
And today is a hot and spicy day in my office at the newspaper because an insider has delivered a fat file of such documents for my perusal. Juicy!
(My teenage son hates the word "whistleblower." He's grown up hearing it, and he says it's dumb. He says the word "insider" is much cooler. So I'm using that word.)
I've read through them, marked them highlighter and tabs, and need to make a timeline and start doing interviews. I expect the people I'm interviewing to be extremely pissed off, but that's the way it goes. I don't know that this will reveal any heinous wrongdoing. It's more likely that these documents reveal some unethical actions that point to conflicted interests and a lack of concern for responsibilities and the public. Is that vague enough for you?
So, I'm off to take a quick walk in the Rocky Mountain sunshine and then it's back to work! And posted above is what I'll be looking at. This is a view of the Third Flatiron, which is right in front of my office.
And here's an aerial view. My office is close to the mountains toward the south (left) of the photo. The big red rock slabs are the Flatirons. The big buildings with the red roofs in the foreground are the university I attended.
4 comments:
You are so lucky to have such a beautiful view!! I miss the Rockies. I haven't see them since I was 5 yrs old.

Cool that you got the info finally from the "insider". Go get them!!! It's fun to piss people off when they have done wrong and got caught as long as they don't threaten death! Then it's not fun.

On another note, Mom, Dad and Ahava got to go home today!!!
Check my post on the Rebel site for a good laugh.

Have a great day! Soak up the rays!
Post a Comment