Book Releases
Holding On (Colorado High Country #6) —
The Colorado High Country series returns with Conrad and Kenzie's story.

A hero barely holding on…

Harrison Conrad returned to Scarlet Springs from Nepal, the sole survivor of a freak accident on Mt. Everest. Shattered and grieving for his friends, he vows never to climb again and retreats into a bottle of whiskey—until Kenzie Morgan shows up at his door with a tiny puppy asking for his help. He's the last person in the world she should ask to foster this little furball. He's barely capable of managing his own life right now, let alone caring for a helpless, adorable, fluffy puppy. But Conrad has always had a thing for Kenzie with her bright smile and sweet curves. One look into her pleading blue eyes, and he can't say no.

The woman who won't let him fall…

Kenzie Morgan's life went to the dogs years ago. A successful search dog trainer and kennel owner, she gets her fill of adventure volunteering for the Rocky Mountain Search & Rescue Team. The only thing missing from her busy life is love. It's not easy finding Mr. Right in a small mountain town, especially when she's unwilling to date climbers. She long ago swore never again to fall for a guy who might one day leave her for a rock. When Conrad returns from a climbing trip haunted by the catastrophe that killed his best friend, Kenzie can see he's hurting and wants to help. She just might have the perfect way to bring him back to the world of the living. But friendship quickly turns into something more—and now she's risking her heart to heal his.

In ebook and soon in print!
About Me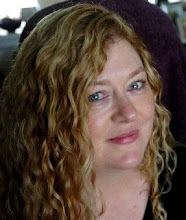 I grew up in Colorado at the foot of the Rocky Mountains, then lived in Denmark and traveled throughout Europe before coming back to Colorado. I have two adult sons, whom I cherish. I started my writing career as a columnist and investigative reporter and eventually became the first woman editor of two different papers. Along the way, my team and I won numerous state and several national awards, including the National Journalism Award for Public Service. In 2011, I was awarded the Keeper of the Flame Lifetime Achievement Award for Journalism. Now I write historical romance and contemporary romantic suspense.
View my complete profile
Subscribe To


Posts


All Comments
Wednesday, July 15, 2009
A photo taken somewhere on the dinetah — Navajoland — where Kat from Naked Edge was born. I think the real Kat may have taken this photo, actually...
So I realize it's been a while since I posted. I thought I'd give you a quick update.
Since my last post:
I have had a week's vacation, during which I wrote 18 to 20 hours a day and got to Chapter 28 of
Naked Edge
. That puts me within screaming distance of the end. I'm halfway through 28 now, and I hope to finish it tonight. So that leaves Chapters 29 and 30, plus the epilogue... and then I'm
done
!
I'm back at work, but I'm still pushing hard to finish, which means I'm still getting only about five hours of sleep a night. That's okay, because I
just want to finish
!
Also, my family's dear friend Connie, whom I mentioned several posts back and whom I tried to celebrate by including her as a character in
Unlawful Contact
, passed away. She died must faster than anyone imagined. Her funeral is today. I appreciate your prayers for her, and I'm just glad she's no longer suffering. I was able to visit her in hospice, which was a moving experience, but also very sad.
Connie with my sister back in the early '70s. The two of them shared a birthday. I have no idea who anyone else is in this photo. This is the house we lived in from the time I was 9 till I was about 12.
She will be sorely missed by her family, friends and all the women she helped through her church. She was very involved in assisting abused women and in helping women through Christian ministry. I'm not big on religion, but she's one of a small number of people who truly walked their talk. If there is such a thing as Heaven, she's there now.
My thoughts are now with her husband, John (who was "Pastor John" in
Unlawful Contact
) and with her children, who've been my friends since I was 2 years old.
Work is, of course, very busy, and I'm really not up for it now. Between Connie's death and the writing the climax of
Naked Edge
, I'm feeling pretty emotional and just want to write and sleep and isolate myself.
Speaking of work, I'm very late getting ready for it. I just wanted to give you all an update. I hope to finish
Naked Edge
by the end of this coming weekend.
Favorite Writing Quotes
"I am an artist. I am here to live out loud."
—Emile Zola

"I am tomorrow, or some future day, what I establish today. I am today what I established yesterday or some previous day."
—James Joyce

"Let other pens dwell on guilt and misery."
—Jane Austen

"Writers are those for whom writing is more difficult that it is for others."
—Ernest Hemingway

"When I write, I feel like an armless, legless man with a crayon in his mouth."
—Kurt Vonnegut

"The ability of writers to imagine what is not the self, to familiarize the strange and mystify the familiar is the test of their power."
—Toni Morrison

"No tears in the author, no tears in the reader."
—Robert Frost.

"I'm a writer. I give the truth scope."
—the character of Chaucer in
A Knight's Tale